More information on:
For more information
335-82 55 155
info@mediterraneachartersud.com
Two weeks in sailing boat
Napoli – Palinuro – Stromboli – Panarea – Lipari – Salina – Vulcano – Filicudi – Alicudi
Sailing tour
Day 1 Saturday – Embarkation at 6:00 p.m. at Naples base and departure for Palinuro. We begin our sailing cruise with a strategic stop halfway to the Aeolian Islands. 
Day 2 – Breakfast and route on Stromboli where it is worth get ashore in the late afternoon both to visit the island and to have a drink at the village Stromboli, perhaps the most mundane event on the island. Do not miss a visit  by sea at Sciara del Fuoco ("stream of fire") or  a guided tour on the volcano.
Day 3 – At customer's choice we can stay on the island or leave to the nearby Panarea with bath in Basiluzzo (huge rock in front of Panarea) and in Cala Junco from where you can walk to the prehistoric village
of Punta Milazzese. Happy hour from 7:oo p.m..

Day 4 – At customer's choice we can stay on the island or leave to Lipari with its picturesque coves, "obligatory" bath at the pumice quarry and route to Vulcano for a quiet romantic dinner in the harbor inside an old volcanic mouth.
Day 5 – Salina! Do not miss the bath in the enchanting bay of Pollara, an ancient collapsed crater, a paradise for scuba divers. Between Punta Lingua and the marina of Santa Marina, you are spoiled for choice for a wonderful evening and for a gastronomic tour (cannoli and snow cones).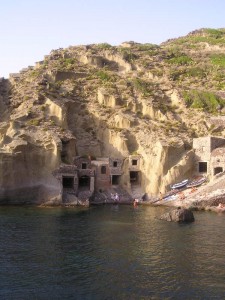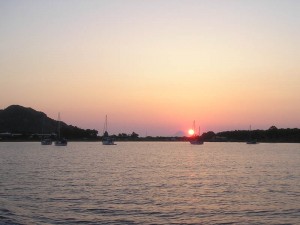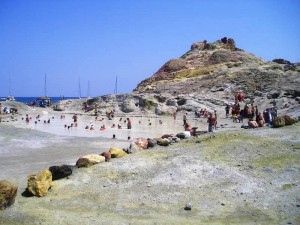 Day 6 – At the customer's choice, we can stay on the island or leave for Filicudi. Stop at the old Ponte Pecorini where just take a look at the only two bars and restaurant to go back about twenty years. Do not miss a bath in Canna, a cliff about 70 meters high, and in the  Grotta del Bue Marino and an excursion to the prehistoric village of Capo Graziano, a very important archaeological site.
Day 7 – Departure for Alicudi, geographically the most external of the Aeolian Islands and also the most roughing: it is a volcanic cone characterized by overhanging coasts inhabited by colonies of seagulls. On the island there are no roads, but only paths to be covered on foot or on the back of a donkey.
Day 8/9/10/11 – The sailing tour continues now with the backward journey of the Aeolian Islands discovering new places and situations of the  already visited islands. Days for relaxing, sailing and trolling.
Giorno 12– Relaxing morning. In the afternoon we sail towards the Gulf of Naples.
Giorno 13– Route to Capri for bath and relax under the Faraglioni. Return to the base of Naples by 6:00 p.m. for the check out with dinner in Santa Lucia or Borgo Marinari under the scenery of the legendary Castel dell'Ovo.
Giorno 14– Disemkation at 9:00 a.m..